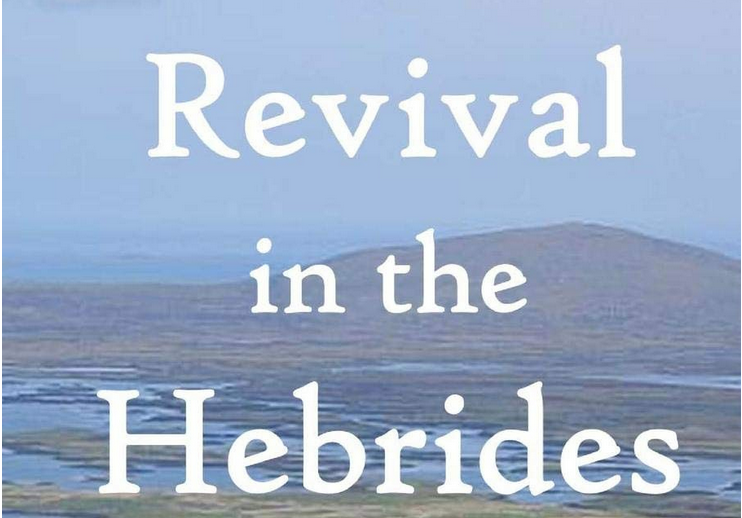 This was originally posted as a Note on Aprill 22, 2020 on the Revival Study Bible Facebook Page
The Isle of Lewis Revival 
Clean hands, pure heart 
PG 723 Revival Study Bible 
Ps 24:3–4 "Who may ascend into the hill of the Lord? And who may stand in His holy place? He who has clean hands and a pure heart, who has not lifted up his sould to falsehood and has not sworn deceitfully." 
For months, they had waited on God. Nothing happened, until one night a young man, Bible in hand began reading from Psalm 24, "Who may ascend into the hill of the Lord? Or who may stand in His holy place? He who has clean hands and a pure heart." He shut his Bible. Looking at his companions, he said, "Brethren, it seems to me so much humbug waiting as we are … unless we are rightly related to God. I must ask myself: Are my hands clean? Is my heart pure?" He then began to pray.… At that moment, something happened in the barn. A power was let loose that shook the parish from center to circumference.… God had visited them, and neither they nor the parish could ever be the same again. (The Lewis Revival) 
Duncan Campbell on the 1949 Isle of Lewis Revival. PG 742 Revival Study Bible 
When God Comes Down 
What do you mean by revival? There are a great many views held by people. We say, "Are you going out to the revival?" or "We're having a revival crusade." There is a world of difference between a crusade and special efforts to bring Christ to people. But, dear people, that is not revival. I thank God for every soul brought to Christ through our special seasons of blessing, conferences, and conventions. But in revival, the community suddenly becomes conscious of the presence of God in a matter of hours—not days. Something is happening that draws men and women to the house of God. You find within hours, scores of men and women crying to God for mercy. 
You've heard the history of the revival of Jonathan Edwards in America, the Welsh Revival, or the more recent Lewis Revival. That is what happened when God came down. Suddenly men and women all over the town were gripped by the fear of God. How did it happen? One evening an old woman, eighty-four years of age and blind, had a vision. Don't ask me to explain this vision because I cannot—but strange things happen when God begins to move. This dear old lady saw in the vision the church of our fathers crowded with young people and saw a strange minister in the pulpit. She was so impressed by this revelation she sent for the minister. 
The parish minister was a God-fearing man, a man that longed to see God work. He had tried ever so many things to get youth of the parish interested, but not one single teenager attended the church. So what did this dear old lady say to him? "I'm sure, Mr. McKay, you are longing to see God work. What about calling your office bearers together and suggest to them that you spend two nights a week waiting upon Him? You've tried mission; you've tried special evangelists. But, Mr. McKay, have you tried God?" (Duncan Campbell) 
Hebrides Revival 
PG 762 Revival Study Bible 
Ps 68:35 O God, You are more awesome than Your holy places 
The difference between successful evangelism and revival is this: In evangelism the twos, the threes, the tens, the twenties, and possibly the hundreds make confessions of Jesus Christ, and at the end of the year you are thankful that half of them are standing. 
But the community remains untouched. The public houses are crowded, the dancing ballrooms are packed. The theatre and picture houses are patronized by hundreds. There is no change in the community! But in revival, when God the Holy Ghost comes, when the winds of heaven blow, suddenly the community becomes God-conscious. A God-realization takes hold of young, middle-aged, and old. So that in the case of the Hebrides revival, seventy-five percent of those saved one night were saved before they came near a meeting! (Duncan Campbell) 
We were Like Those Who Dream 
PG 811 Revival Study Bible 
Psalm 126:1–2 When the Lord turned again the captivity of Zion,We were like them that dream. Then was our mouth filled with laughter. And our tongue with singing:Then said they among the heathen, The Lord hath done great things for them. 
Duncan Campbell spoke the first night in the Barvas Church. Both his sermon and the service were utterly unremarkable. People left feeling "somewhat deflated," leaving Campbell and two church officials at the door. One refused to leave. Standing still at the entrance, he began to pray loudly and passionately: "Oh Lord, you are a covenant-keeping God and you have promised revival. You must keep your promise. You dare not fail us, You must not fail us. Your honor is at stake." As he kept repeating that phrase, the power of the Holy Spirit struck him and he fell to the ground. 
Outside the church, the other man began to read from Psalm 126: When the Lord brought back the captivity of Zion, we were like those who dream. Then our mouth was filled with laughter, and our tongue with singing. As he finished, he, too, fell under the power of the Spirit. Then Campbell stepped outside. He was amazed to see some 700 people waiting to come in and hear the gospel! He began to preach but only managed a very small part of his sermon; the cries of the penitents for mercy were drowning out his words so loudly he had to stop. (Mark Stibbe, Pastor of Father's House, Trust Watford, United Kingdom) 
PG 1236 RSB 
The Hebrides Revival in Scotland (1949–1952) 
God came with power. During the service, tears and suppressed sobs … showed this was no ordinary occasion—that it was the day of the Lord's power. When the benediction was pronounced a few retired, but the great majority lingered—stood in fact, as if held in a vice or bound with a chain. 
In a moment, as if struck with a thunderbolt from above, a hundred persons were prostrated on their knees sending forth a wail from hearts bruised, broken, and overwhelmed with horror such as will never be forgotten and the solemnity and awe of which will perhaps never be surpassed until judgment day. 
For hours, these stricken, smitten, bleeding souls remained on their knees, unconscious of everything but their own guilt and danger and need of a Savior, pleading and praying with an intensity and fervor which surpasses all description. 
The meeting fell "as still as a grave," a fearful stillness. This terrifying silence was suddenly shattered by unearthly cries from different parts of the church; people lay prostrate as the Spirit revealed "terrifying and glorious realities." 
One well-educated merchant suddenly saw hell open up before his eyes; an irresistible force seemed to be pushing him head first into the abyss. For a moment, he cried in his heart: "My sins! My sins! I am lost!" and he ran out of the church. Later he said, "Had anyone asked me 'Where are you going?' I would have answered, 'I am going to hell.' " 
For hours in his room, he cried for mercy until God's promises came to his mind and he seized them. Heavenly radiance spread over his soul and he arose a Christian. He raced out into the night across town and knocked on his business partner's door. When he opened it, he called, "I have found Christ and have come to tell you!" They prayed together; three days later his partner was converted.
Duncan Campbell (1898 - 1972): Bible teacher, revival witness, Presbyterian, Scotland.  
Campbell was used mightily of God in the Isle of Lewis. He heard God's voice speaking to him while awaiting his turn to speak at a convention; following the leading of the Holy Spirit, he caught a ferry to meet with people who prayed expecting he would come, and he witnessed an awesome visitation of the Lord in this community that affected the whole country. RSB Pg xx (contributor biographies) 
Here is a YouTube link for the Video about the Hebrides I shared on April 22, 2020 on the RSB Facebook Page.
I just checked (on Nov 3, 2020) and the link is working.
https://youtu.be/ZpX0h9hSscM